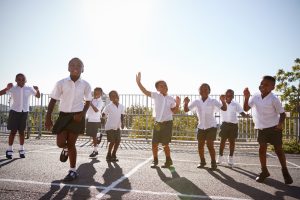 Keystone Bank Children's Day celebration was nothing short of spectacular! With a massive turn out, the bank hosted over 200 children and their parents to an awesome funfair, with an abundance of gifts and cash prizes that left everyone beaming.
Led by Anayo Nwosu, the Group Head of Retail/MSME/Value Chain, the initiative accomplished a remarkable feat by providing premium entertainment to children while fostering a sense of financial responsibility in them from an early age. This one-of-a-kind celebration garnered the attention of not only the attendees but also the broader community of Lafia Metropolis. Keystone Bank managed to bring smiles to the faces of countless children while also touching the lives of the hosting communities.
At Keystone Bank, the underlying belief that children are the torchbearer of the future is at the heart of initiatives like this. The bank remains committed to empowering the younger generation, instilling values of resilience and optimism in them, and nurturing their potentials.